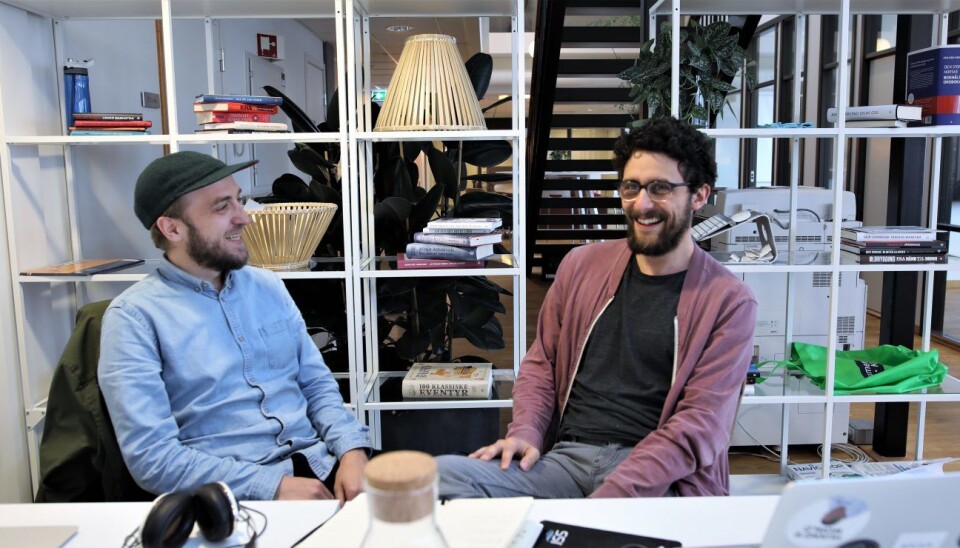 This is how Socius succeeds with B2B sales to gigantic customers
They have just landed som big customers. CEO Daniel Butler shares his tips and tricks on how to get those B2B sales.
Since winning the first Angel Challenge in December 2015, we haven't heard a lot from Frode Jensen and Daniel Butler in Socius. Their company is offering an advertising platform that repackages an advertisers' social content and displays it in context on a publishers' page.
Shifter last wrote about them in august last year, when they got 3,5 million NOK investments. Since then they've attended Are Traasdahls Propeller Programme in New York, and the last couple of weeks they have landed some pretty big customers.
–We've got Dow Jones, part of News Corp, just signed with us. We've got Penske Media. They have Variety, Indiewire, Women's Wear Daily. We've got Gothamist and Entrepreneur, with 75 million monthly page views. That's massive. We've been working with big brands here in the Nordics and in Germany, so we've been pretty busy just pounding the pavement and getting these deals up and running, says Daniel Butler, CEO of Socius.
In a recent podcast with Shifter he his disclosing some of their tips on how to land B2B-clients.

1.Go to where your customers are
Most of Socius customers are big international brands. According to Daniel Butler, these are players they couldn't dream of getting if they weren't physically present in their market.
–Because there wasn't a lot of support for what we wanted to do in 2012, we went over to Berlin, and we joined Axel Springer's accelerator. That put us into this ecosystem where we could meet levels which were beyond what we could do in the Nordics necessarily. For example, you're sitting in an incubator or co-working space here, and maybe like a head of innovation for some big Norwegian Company or a Nordic company comes in, but in Germany you're sitting in Berlin, and suddenly some big German just drops by and the market's huge, right? Then sitting in Tapad, in New York, the other day the head of AppNexus came by, it's like the second biggest ad server in the world.
We sat there and it just opens so many doors, so for us, we've always been big on serendipity, and just being in environments where you're likely to cross paths with people, because in B2B sales, it is a lot about people, and you realize pretty soon that it's a lesson in psychology, it's lesson in like people management.
2.Know the one you are selling to
Prepare different presentations for the different people you are meeting.
We usually talk to head of business development.They're looking for what they can do differently to change processes, and so we have a deck for them. It's a high level deck. This is what we do. It's seven slides. Then, if that goes well, and then they're like, "Okay, I want to introduce you to our head of sales," and then we need another deck.
Why do you need another deck?
There's so many levels of management in the US, so whatever you've got here, like triple it or quadruple it, but the decks have to be relatable to like, how is it practical for them? The business development or innovation is maybe not thinking about how to apply it. They're just thinking of the high level. What can this do for us? So, if you went in with a very detailed, "This is behind the curtain, this is how it works," they're just going to be like, "What? What are you talking about," because they don't necessarily understand the nuts and bolts of it.
When you're talking to ad ops, you need to describe how to get it to work, so consequently, you need a different level. At least we've seen that you need different levels of materials, and then once that head of sales buys in, then you need another load of materials to help them sell our product, or sell internally, so you're sort of helping them with materials, and maybe you're working with materials that you already have, and making adjustments off of that to fit with that deck.
3.Find the internal ambassador
You need an internal ambassador. Somebody who gets it, who likes you, and you've go to build a rapport with them, and understand that it's not just about a product which will help the business, but it's got to help them, right?
Like what's the consequence of them choosing or not choosing your product? Is it more time at work which they probably don't want to do? Is it that they could lose their job? What's the incentive? There's levels as well to the benefits from a company level, a team level, and a personal level which you kind of need to figure out the balance.
4.Never go to meeting without a specific call to action at the end of it.
After the meeting, you should have some kind of call to action.
You want to figure out, what are the next steps? You could just ask them. What do you need? What do you need from me? You don't want to leave the meeting with, "Oh, that was a great meeting," and nothing much more. Be careful of being too pushy or expecting something next week necessarily, because again, people don't work on that schedule, but usually there's something. "Can I send you a bit of code to test with your ad-ops," or, "Can I take a look at some or your sales materials that we can review and send back some suggestions?" Just try to be helpful.
5.Congratulations. You've got the pilot. This is where it starts.
It's not like, "Here's the sale, leave it alone, go to the next customer."
It's a lot of continuously poking them and figuring out and understanding and that's the whole point is like to understand what, how can we make it better? Iterating on the product, or working on sales materials or figuring out a new vertical, a new sales vertical for them, new customer vertical for example.
When they start to sell it internally, and there's new sales people starting to successfully sell the product, that's what we're seeing, that's a really good sign, and also like starting on one publication and being adopted by another, that's what we're starting to see as well, so that's obviously what we want to see more of. We don't just want to be like on one publication.
Getting the ink on paper is just the start, you need to work hard after the paperwork to really get the product adopted within the company culture if you are to have real impact and drive success.
Listen to the entire podcast here, or download it from iTunes.