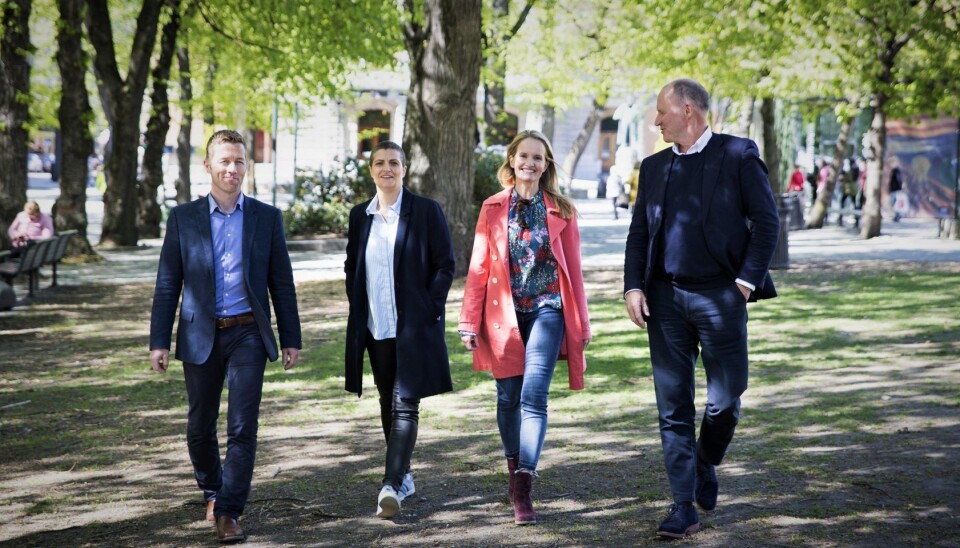 Shifter's Norway Roundup #10: Vibbio's video moment and health tech v medicine
Shifter's international editor Kyle Havlicek-McClenahan brings you the essential news from the Norwegian tech scene.
Sign up for the weekly newsletter:
Vibbio's video moment
A format-in-vogue brings capital to creators

Hot off the post-production presses, Vibbio has announced a €1.34m investment round by led by Skagerak Maturo and Investinor, including existing investors. Makers of a video creation platform for businesses, the company plans to use the money to extend themselves beyond the comforts of home after having demonstrated strong growth fundamentals here in Norway.
But demands to deliver are sky high
Despite growth in the market, investor expectations may be putting the target not on the moon but on the backs of founders: for returns to satisfy participating funds, the company needs to be sold within 2026 for at least €50m if it's to be considered a success. Despite this, CEO and Founder Marianne Bratt Ricketts is confident, "considering market size and trends, the point is that we will succeed." No sweat.
---
Skanska acquires construction tech startup Ditio
Ditio, makers of a software that digitises informational flow on construction sites, has brought on previous customer Skanska as owners, a sign of accelerating tech adoption in the industry.
Norges Bank developing system for real-time payments
Norges Bank has announced that a project that began in 2016 will soon bear fruit: an improved payments infrastructure that brings settlement times down to a few seconds arrives this year.
DNB launches Google Pay, in discussions with Apple
DNB, Norway's largest bank, has announced that customers can now pay with Google Pay. And while they are in discussions with Apple, there is no indication as to when it will be supported.
---
Health tech v medicine
On depression: VR is in, medicine out
Founder of Bloom VR Therapy, Tina Israni, is bullish on the potential for VR-based applications to take a swing at conventional therapy methods in treating depression and other mental illnesses. The models being developed by her company to enhance patient well being include, no joke, the chance to participate in a virtual version of Fight Club to release frustrations. Edward Norton eat your heart out.
A health expert: uhh...
Arne Holde, Professor Emeritus of Health Psychology at UiO, is not as convinced. One concern is that VR may further isolate individuals in the virtual world rather than rehabilitating them back into the "real" one. In addition, there is no evidence that digital solutions provide meaningful benefit beyond an initial placebo. This isn't to say that VR doesn't have its place; when combined with medication and therapy, treatments like those developed by Israni are likely to bloom.
---
Only 1 in 5 public organisations in Norway use AI
Heidi Austlid of IKT-Norway last Wednesday shared the disheartening report, adding that those instances in which AI is used often don't take full advantage of the technology.
Swedish investor wants to take co-working into nature
Marie Eriksson, Co-founder of the impact investor Formica Capital, wants to bring the startup accelerator out into the real world: nature, where she's hoping startups will be heading soon.
New venture fund for food tech joins Katapult family
Eirik Svendsen will be transitioning from an executive career in innovation and international media to help launch Katapult Food in London alongside Sergio Rodrigues and Naeem Lakhani.
---
Your feedback and support will be fundamental in the months to come. If you have an interest in seeing certain types of English language content, we would love to hear from you at kyle@shifter.no.
We are offering deals on advertising for current and future English language content. If interested, please reach out to our commercial department.