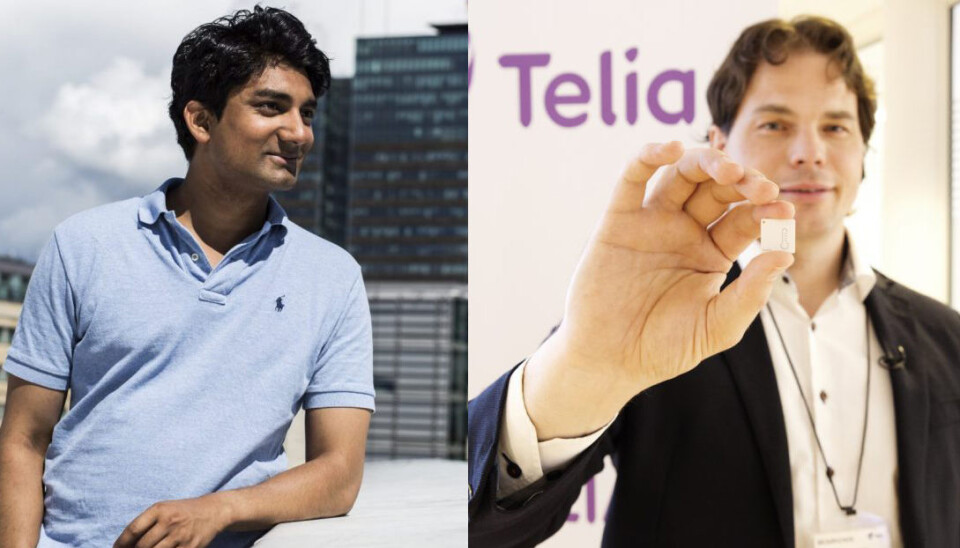 Norske gründere til topps i Stockholm: Huddlestock og Disruptive Technologies vant nordisk "startup-oscar"
Murshid Ali og Erik Fossum Færevaag hentet hjem priser for beste startups innen henholdvis fintech og internet of things i Nordic Startup Awards.
Det var to meget fornøyde gründere i Huddlestock og Disruptive Technologies som mottok prisene i finalen i Nordic Startup Awards i Stockholm onsdag kveld.
-- For oss betyr dette veldig mye, vi er ekstremt ydmyke og takknemlig overfor alle som har stemt på oss. Dette er med på å sette oss på et globalt kart, når vi nå reiser til finalen Kina, sa en overrasket Murshid Ali i Huddlestock etter at han mottok prisen foran en stappfull sal i Circus.
Fintech-selskapet vil gjøre det enklere for vanlige folk å kjøpe aksjer basert på proffe investeringsråd som tradisjonelt har vært forbeholdt porteføljeforvaltere. Brukerne skal også kunne kjøpe aksjer til en helt annen pris fordi store grupper mennesker går sammen om å kjøpe dem. I dag er det primært proffe porteføljeforvaltere som har tilgang på disse rådene gjennom skyhøye abonnementsordninger og som kan handle aksjer til en lavere pris enn det vanlige folk kan.

Tøff konkurranse
Disruptive Technologies er en av landets mest omtalte oppstartsselskaper det siste året, og var blant favorittene i prisutdelingen.
-- Dette er en viktig pris for oss. Det er enormt mange aktører innen IoT, og det var flere sterke konkurrenter med her, sier gründer Erik Fossum Færevaag.
Selskapet lager sensorer på størrelse med frimerker. Sensorene har innebygget prosessering, radiokommunikasjon og batteri med en varighet på opptil 15 år. De er tidlig ute, og har ambisjoner om å selge milliarder av sensorer til et marked som spås å bli enormt etter hvert som nettet blir mer og mer dominert av maskiner som snakker sammen. Målet er å bli den fremste tilbyder av løsninger for å koble alle «ting» til internett.

-- Mange snakker om Internet of Things, vi gjør det mulig å få alle tingene på internett, sier Færevaag.
Verifisering av produkt
-- Det virker som dere får mye oppmerksomhet fra før, trenger dere virkelig den ekstra oppmerksomheten det er å vinne slike priser?
-- Det er vanskelig å si, men vi setter veldig pris på dette. Juryen består av personer som har stor bransjekunnskap, og denne anerkjennelsen er med på å verifisere at det vi driver med er viktig og ønsket. Det er mye bedre at andre sier det enn at vi sier det selv.
Foreløpig satser Disruptive Technologies i Europa, så en umiddelbar effekt av at den globale finalen går i Kina, vil de neppe se.

-- Vi tar for oss Europa først. Når utgangspunktet blir stort nok der, og vi får nok kapasitet, ønsker vi så snart som mulig å gå globalt.
Salgsdirektør Ole Petter Novsett i Disruptive Technologies mener prisen vil ha betydning.

-- For det første blir vi ytterligere kjent i Norden, og ikke minst i Europa. Nå får vi være med i en global konkurranse som bringer oss enda lenger utover landegrensene. Det er med på å få oss oss gjennom atter et nåløye på veien dit vi vil, sier Novsett.
De andre vinnerne
Totalt sett var det svenskene som vant flest priser, med hele fem seire. Deretter fulgte danskene med fire. Her er hele lista:
Startup of the Year - Min Doktor (Sweden)
MinDoktor was founded 2013 in Malmö. Min Doktor is Sweden's first and largest digital health care provider with the majority of the end consumer and health insurance market. Patients can interact 24/7 with a doctor/physician via their favorite device through an asynchronous chat service.
Investor of the Year - Hampus Jakobsson (Sweden)
Hampus is a Malmö-based entrepreneur and investor. He also a co-founder of the VC firm Nordic Makers. He has made over 65 investments. He likes deep tech built by agile minds. Originally computer science engineer who founded two startups.
Founder of the Year - Magnus Nyhlén (Sweden)
Magnus is an entrepreneur from Sweden. Magnus is a co-founder of Min Doktor. Min Doktor is a platform that allows you to consult a doctor online.
Best Startup Ecosystem Initiative - Frumbjörg (Iceland)
Frumbjörg opened 2016 in Reykjavik. - They are an innovation center supporting solutions for the disabled. They launched after a successful Karolina Fund campaign which raised €39,000.
Iceland
Best Social Impact Startup - TRINE (Sweden)
Trine was founded 2015 in Gothenburg. They utilize crowdfunding campaigns to finance solar projects. They have invested over €1.9 million been invested in solar.
KUBO Robotics was founded in 2015. Their educational robots are designed to teach children. Abstract concepts are broken down into puzzles. Kubo started as a research-based project at the University of Southern Denmark. The intention behind the project was to give children a basic understanding of coding before the learn to read and write, without the use of a tablet or computer.
Disruptive Technologies was founded 2013 in Bergen. They produce sensors that can detect touch, proximity, and temperature. Their platform can easily integrate data into your application or IT systems.
Best Health/Lifestyle Tech Startup - CELLINK (Sweden)
CELLINK was founded 2016 in Gothenburg. They produce a range of products in the field of 3D bioprinting. Their biolinks can be used for the printing of human organs and tissue.
Best Food Tech Startup - Too Good To Go (Denmark)
Too Good to Go was founded 2015 in Copenhagen. Their platform lets users purchase surplus food from restaurants. Their fight against food waste has already expanded to Germany, the Netherlands, and the U.K.  
Huddlestock was founded 2014 in Oslo.It is an investing platform where investors can put their money into ideas. When investors earn a profit, a percentage is paid to the idea's owner.
Best Coworking Space - Founders House (Denmark)
Founder House is located in Copenhagen's "Startup Village." They focus on helping scalable tech companies.  Some of their alumni include BoligSurf, #CPHFTW, and AirBnB. Founders House is dedicated to providing the best space for talented die-hard tech entrepreneurs
Best Bootstrapped - Vainu.io (Finland)
Vainu.io was founded 2013 in Helsinki. Vainu transforms disorganized data into insightful sales leads. Their platform lets you easily identify valuable prospects.
Best Accelerator Program - Accelerace (Denmark)
Accelerace was founded 2008 in Copenhagen. Their industry-specific teams help startups identify scalable business models. They have helped over 250 startups raise more than $269 million in funding. Accelerace is one of the world's top 10 seed accelerators.
Best Pan-Nordic Community Initiative - The Nordic Web
The Nordic Web was founded 2014 in Copenhagen. Their site is an online resource for entrepreneurs and investors researching the Nordic startup ecosystem. They provide high quality data and analysis regarding businesses and investments, as well as bespoke reports.
People's Choice - MentorDanmark (Denmark)
MentorDanmark is an online tutoring service founded in Copenhagen. They have helped over 20,000 families within three years. They have offices in Copenhagen and Oslo.